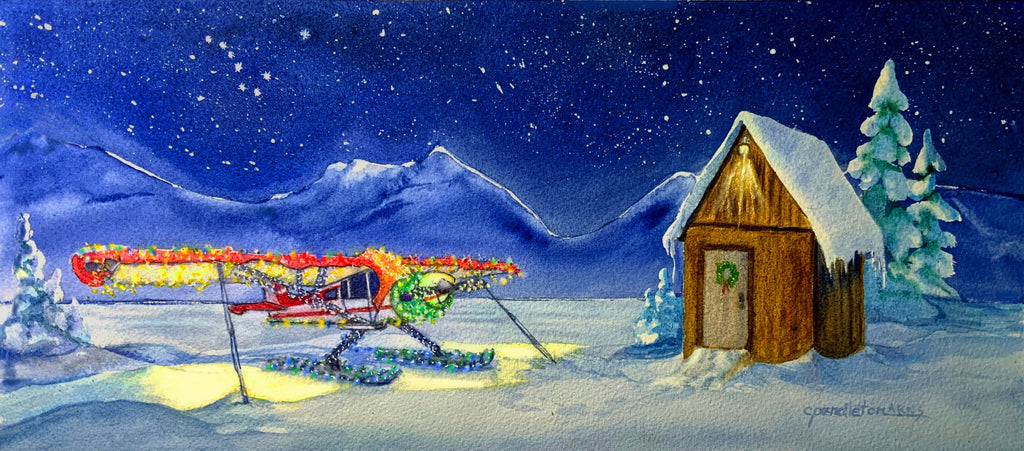 2023 Limited Edition Holiday Card "A Bush Country Holiday"
$20.00
My holiday card this year is dedicated to those daring pilot friends  who helped to make my early years in Alaska a bit more adventurous, colorful, and occasionally terrifying.
Coming from all walks of life, Alaskan bush pilots are a vital part of keeping this state moving. It's practically impossible to live in any part of Alaska without knowing someone who can fly a small plane. We live in a land where roads are few.  Folks in the bush depend on small planes to deliver mail and supplies, provide rides to  doctor appointments or shopping in the bigger towns, and most importantly, rescue them when they get into trouble in the darnedest of remote places. Thank you, Bush Pilots, you are the wings of Alaska!
25% of the sale of this card will be donated to Alaska Search & Rescue in honor and memory of the many pilots who have risked their lives volunteering their time for the good of all Alaskans near and far.
Limited edition of 150 pkgs of 10    Available while supplies last

4"x 9" blank cards /w white env. in each pkg
Printed by Color Art, Inc. Anchorage, AK
Suggested verse included in package
Also available as a print-  double matted 8"x10"  ( $20)